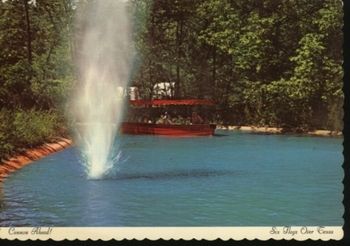 "CANNON AHEAD!"
A gusher of water shoots into the air as "Spanish cannon" fire on a boat making a trip on the LaSalle's Adventure ride at SIX FLAGS Over Texas. There's excitement everywhere in the family entertainment center.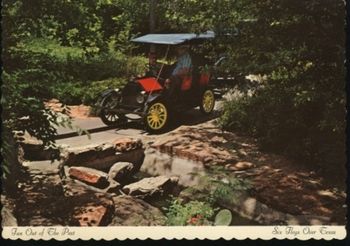 "FUN OUT OF THE PAST"
The Chaparral Antique Cars chug through the lavishly landscaped grounds at SIX FLAGS Over Texas. Each year the Texas fun spot hosts more than 2,000,000 visitors from throughout the world.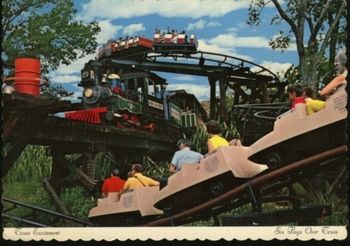 "TEXAS EXCITEMENT"
Three of the most popular rides at SIX FLAGS Over Texas are shown in action. At the top is the Runaway Mine Train which annually carries more than 2 1/2 million riders. At the center is an authentic 1898 steam engine carries passengers over a narrow guage track which encircles the huge theme park. And, in the foreground is the SIX FLAGS Mini Mine Train, designed for the younger set.
"SPIRAL OF EXCITEMENT"
The Big Bend, traveling at speeds up to 55mph, provides thrills for thousands of visitors to SIX FLAGS Over Texas. The huge ride is one of the most popular at the theme park.